The Commissions management section allows you to view and manage unpaid commissions across all loads not canceled.

Following this link will open the screen below: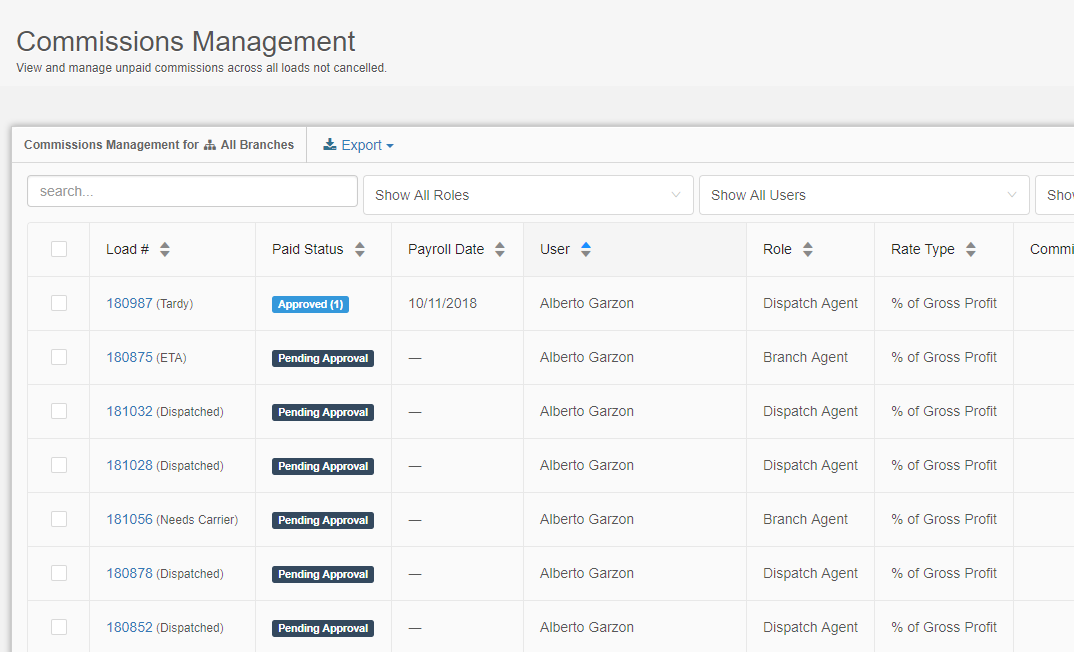 From here you will be able to search for all unpaid commissions on loads that have not been canceled.

If this is your first time using our Commissions Management Feature, you will need to add a role that is commission-able.  Find out more on how to set up user roles here.
---
Edit your commissions
Select the commission(s) you want to edit by either checking the box next to the load or if you want to select all of the loads on a page, you can select the checkbox next to the Load Number column header.
Click "Edit Commission."  Make your changes and when you're done, click the "Save Commission" button.
---
Approve, Mark as Paid, or Mark as Do Not Pay
You can approve, mark as paid, and mark as do not pay simply by clicking the links that appear at the top of the screen.

---
---
Export your commissions to an Excel Spreadsheet
Click the "Export" drop-down button and select "Export Commissions to Excel."  The spreadsheet will automatically download your computer.  You can export all commissions to Excel: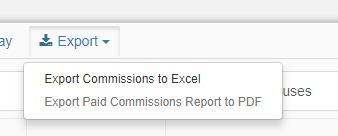 ---
Export a paid commissions report to PDF
Before you run this report, please make sure that all of the commissions that were paid are marked as paid.  From the drop-down menu, choose the user that you want to run the report.  This report will only run on paid commissions for a single user.  The user MUST be selected from the "Show All Users" drop-down menu for this report to run. Click the Export drop-down button and select "Export Paid Commissions Report to PDF."  The PDF report will automatically download to your computer.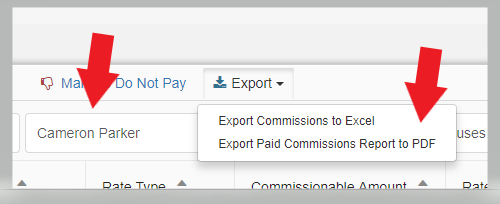 For more information, check out our Commissions Management Video below: