The Load Reports option in AscendTMS allows you to report on active, canceled and archived loads created by you or anyone in your operations team.  Now, you can even save any report that you run regularly. That's right, accounting, upcoming revenue, monthly reports and more - it truly is that simple! You can search for multiple search terms at once, creating truly dynamic reporting!
You can reach the load reporting / load search page here:

That will bring you to your dynamic reporting tool shown here: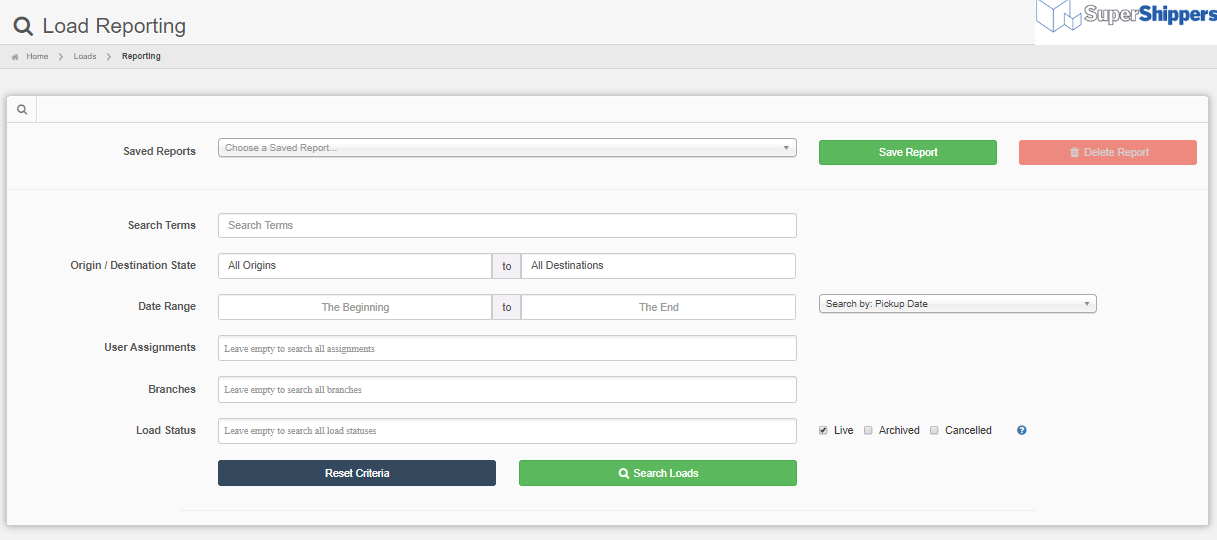 In the 'Search Terms' field, you can type anything related to the load such as location, carrier name, driver name, customer name, etc.  To narrow down your search, you can choose to enter other information, such as origin or destination state, beginning or end date, branches, user assignments and load status.  All matching fields will display with a red font.
---
Saving Report Criteria
You can now save any reports that you run regularly for quick and easy access to them. To save a report, simply do the following:
Enter your report criteria. (In my example below, I have added the Load Statuses - 'In Transit' and 'Dispatched' with my 'Live' loads box selected. This will show me my current Active Loads list with Profit, Loss, and more).
Once all of my criteria is entered, I will then select the "Save Report" tab in green here: 
You will then see this modal appear (shown below) and you can enter a Name for your report: 

Repeat steps 1 through 3 as many times as you want / need!
To get Financial Profit/Loss for Active and Upcoming Loads:
Follow the above steps 1-3 using the Load Statuses that are filtered to each tab. For example, if you have your 'Dispatched' and 'In Transit' loads under your 'Active' tab and you would like to see the current revenue of live loads - simply add those Statuses in the field and select 'Save Report'. You can repeat the same steps with the Load Statuses that appear under any tab. Also, you can get even more specific by adding User Assignments and/or Branches.
Once you have your reports saved, you and your AscendTMS users can navigate to Load Reports at any time and select the report you wish to run from your Saved Reports drop-down menu: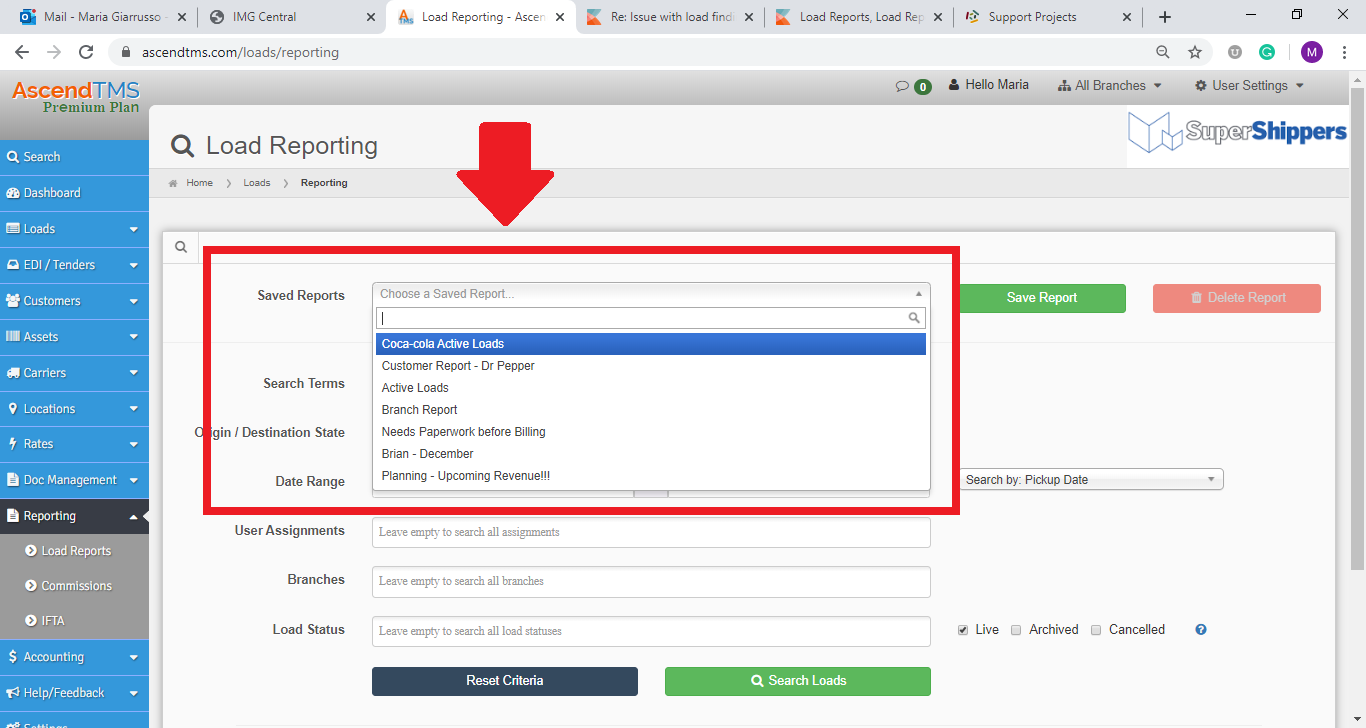 ---
Export Load Data
You also have the option to export the load data results into a spreadsheet. Exporting your data into a spreadsheet allows you a myriad of options in terms of segmenting and charting. There are 3 options to export, depending on your permissions set by your account administrator shown below: 

Export Loads Summary to Excel - This will export a .csv file containting Revenue, Expense and Profit information.

To export load data - Standard Layout - This will export the load data that matches your search criteria and all details from within the load (except financials)

Export load data with charge types as columns - Extended Layout - This will export all of the load information returned in your search. This also includes additional columns detailing the finances of each load.
---
Advanced Reporting And In-Depth Analytics
Some users want to run complex data segmenting, forecasting, and even include artificial intelligence on their data. Doing so is easy. We recommend the free Microsoft Power BI (Business Intelligence) solution. You can learn more HERE.  We highly recommend you watch the overview video on the Microsoft website. 
Their solution is totally free and includes significant cloud storage for your data, results and charts. Moreover, it allows you to update data daily, weekly, or monthly (or any time period you choose), and appends the new data to your old data - making reporting and forecasting much more accurate (and easy). 
If you prefer to use an alternative reporting tool, you can also do that, too. There are hundreds of web-based reporting tools available that are extremely powerful - and many are totally free to use.  
Powerful Reporting = Initial Learning Curve
The Power BI tool is extremely powerful - and may seem complex to new users at first. The Power BI tool is probably more powerful than any reporting tool you have ever used. So, we advise that you watch the videos and training sessions on the Power BI website first. 
Most users like to start slowly when dipping their toe into the water with deep analytics and complex charting. So, in the beginning, export a simple data set from your AscendTMS account first, and then play with it in Power BI before you take on tasks like long-range forecasting and using their AI tools. 
Pretty soon you'll grasp the "easy" stuff - and then can take on more complex reporting and charting over time. 
The same goes for other web-based reporting tools. Just start slowly, and build from there.