You are probably already aware of how easy it is to factor your freight bills with one of AscendTMS' integrated factoring partners. But, what about AscendTMS users that want easy and fast factoring with either their current factoring company OR with a new non-integrated factoring company? Well, you're in luck, as you can use AscendTMS' existing invoicing features to email factoring submissions - along with all needed POD's - to your chosen factoring company.
Invoicing Your Customers AND Factoring Freight Bills at the Same Time
If your non-integrated factoring company will accept factoring transactions via email, you're in luck. You can skip logging into a stand-alone factoring website or portal and shuffling piles of electronic paperwork around to get your funding. As you've already uploaded your freight bills and load documents to AscendTMS for invoicing and billing, why not save time and do your load factoring simultaneously?
For help with invoicing and billing processes in AscendTMS, please review our invoicing and billing article here.
Simply add a factoring company contact with an email address to all of your customer profiles in AscendTMS.

Don't forget to check the box for the contact to appear on email lists.
Now, as you email invoices and supporting documents to customers, you can email the very same invoices and supporting documents (freight bills) to your factoring company at the same time! (NOTE: Verify with your factoring representative on whether they want you to bill your customer in conjunction with sending in your invoices and POD's to them for payment. If your factoring company wants to bill your customers on your behalf, then you only need to email your invoices and supporting documents to your factoring company, and they will do the rest. It's that easy!)

Your factoring company contact will appear in the invoice email list along with your customer contacts.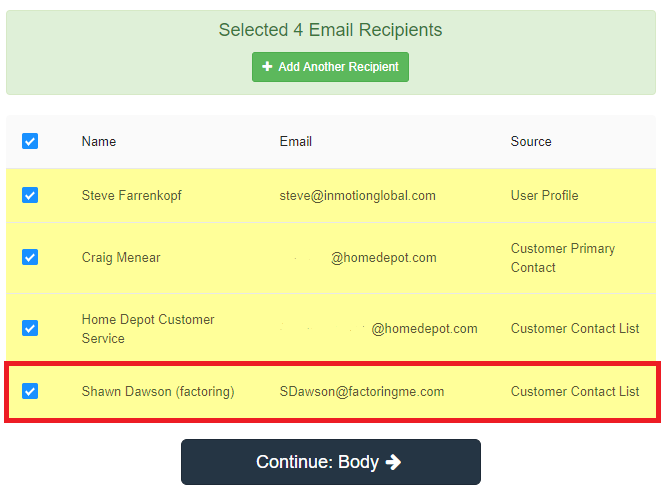 Follow through with sending the email. Your customer will receive your invoice and proof of delivery documents and your factoring company will receive the same.
The AscendTMS team can even apply a watermark featuring your factoring company's notice of assignment (NOA) stamp to all of your invoices. Just email us at support@InMotionGlobal.com and ask!