AscendTMS and Love's have partnered together to offer you quick and easy factoring of all your freight bills! Simply manage your loads and shipments in AscendTMS . When you are ready to get paid, upload your freight bills and supporting documents to your loads, and email everything to be factored to Love's Financial in one simple process.
---
Connecting To Your Love's Factoring Account
You can integrate your Love's Financial Factoring Account directly into your AscendTMS by following the steps below:
1) Navigate to your Settings menu on the lower left-hand side of your screen
2) Navigate to Premium Features & Billing Details
3) Select "Add or Edit Factoring Settings"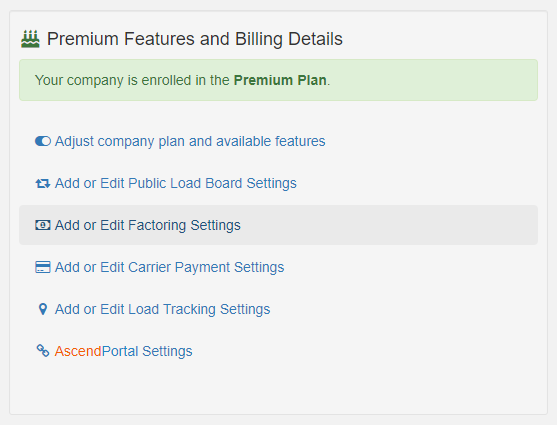 4) Choose "Connect to Love's Financial"
5) In the modal window that pops up, start by entering your Love's Financial Client ID. If you don't know your Love's Client ID, leave it blank for now. Love's will contact you with a Client ID later, at which point you should revisit Factoring Settings to add and save it for your connection.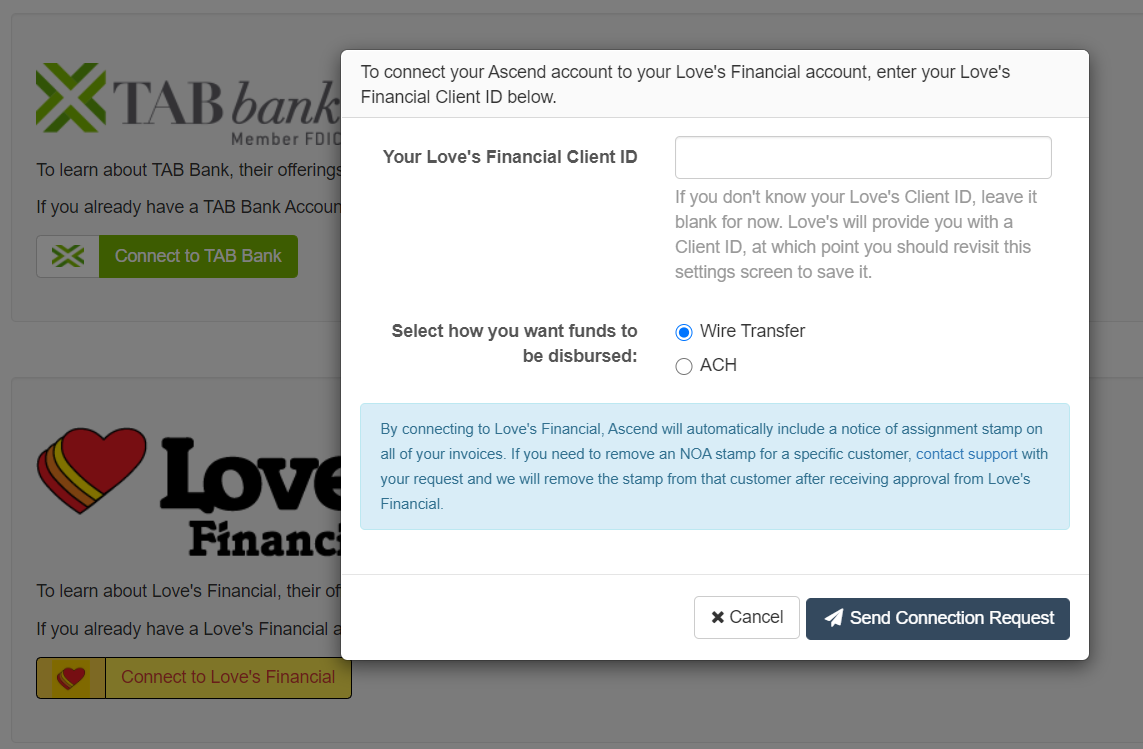 6) Next, decide how you want funds to be disbursed to you when factoring. You can choose between having funds sent via wire transfers or being sent to an automatic clearing house (ACH) account.
7) Be sure to read and understand the small disclaimer about Love's Financial notice of assignment (NOA) watermarks and how they will be applied to your invoice documents in AscendTMS.

8) Click on the "Send Connection Request" button to submit your selections to Love's Financial.
9)  Whether you were able to input your Love's Financial Client ID or not, Love's will contact you shortly about your connection request.
If your factoring connection request is approved and a Client ID was not previously available, Love's will provide you with a new Client ID. At which point, please return to your Love's Factoring Settings to save the Client ID and complete the connection.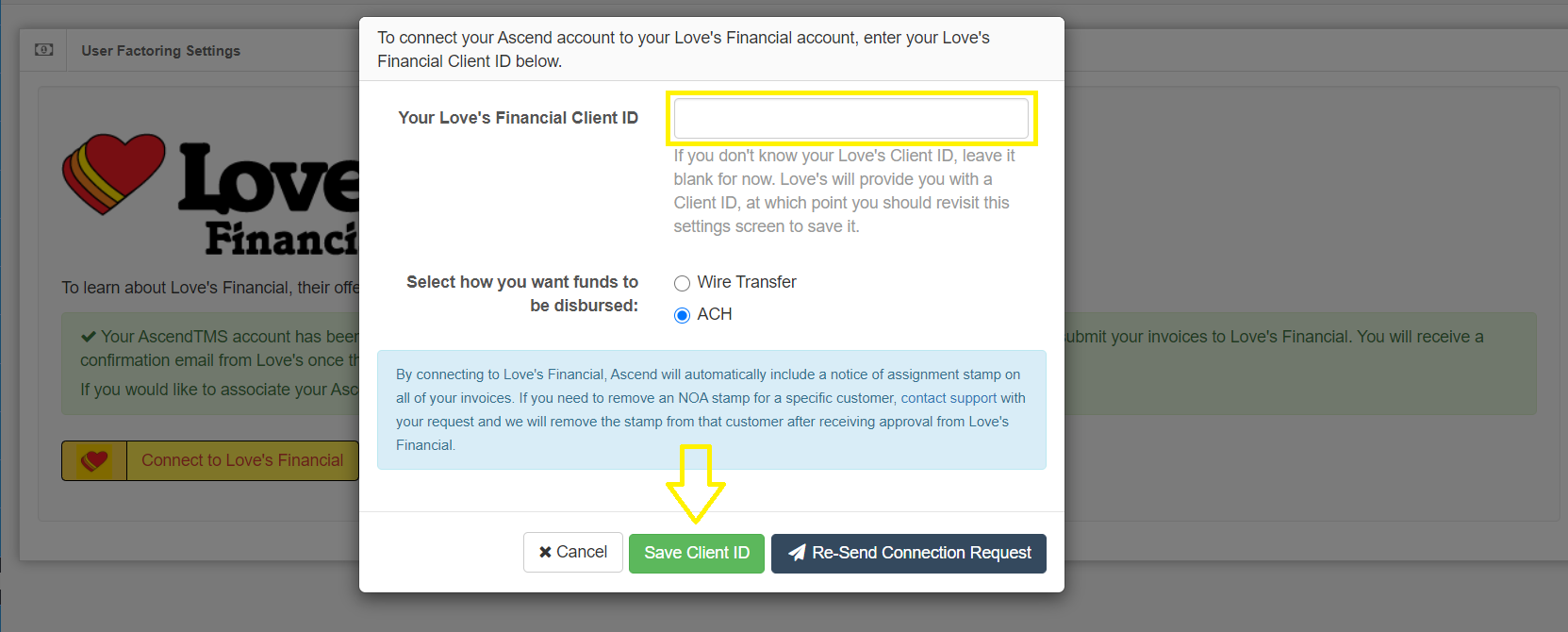 If you were able to supply a Love's Client ID with the original connection request, Loves will contact you and advise when your connection is fully active and you can begin factoring transactions.
---
 Factoring Your Freight Bills
Now that your Love's Financial and AscendTMS accounts are connected, be sure that all of your supporting documents (BOL's, POD's, signed confirmations, receipts, etc.) are uploaded to your loads. All of your uploaded documents will conveniently and automatically accompany your system-generated invoice documents when factoring with Love's.
Uploading Your Documents:
1) There are a multitude of ways to upload documents to your loads in AscendTMS but the upload link located within the newly updated Load Actions bar may be the most convenient. Documents may also be uploaded directly to your loads by drivers and carriers via text or through an integration like Transflo.

2) Upload your supporting documents and process them as desired. Once you have confirmed that all of your documents are uploaded and processed, you can send the load to Accounting Management.
Factoring Process:
Navigate to Accounting Management. From the Invoices tab, select one or more invoices to be factored by checking the boxes next to the company name. You must set your invoice date(s) before factoring. You can click in the Invoice Date column of your invoices to set their invoice dates.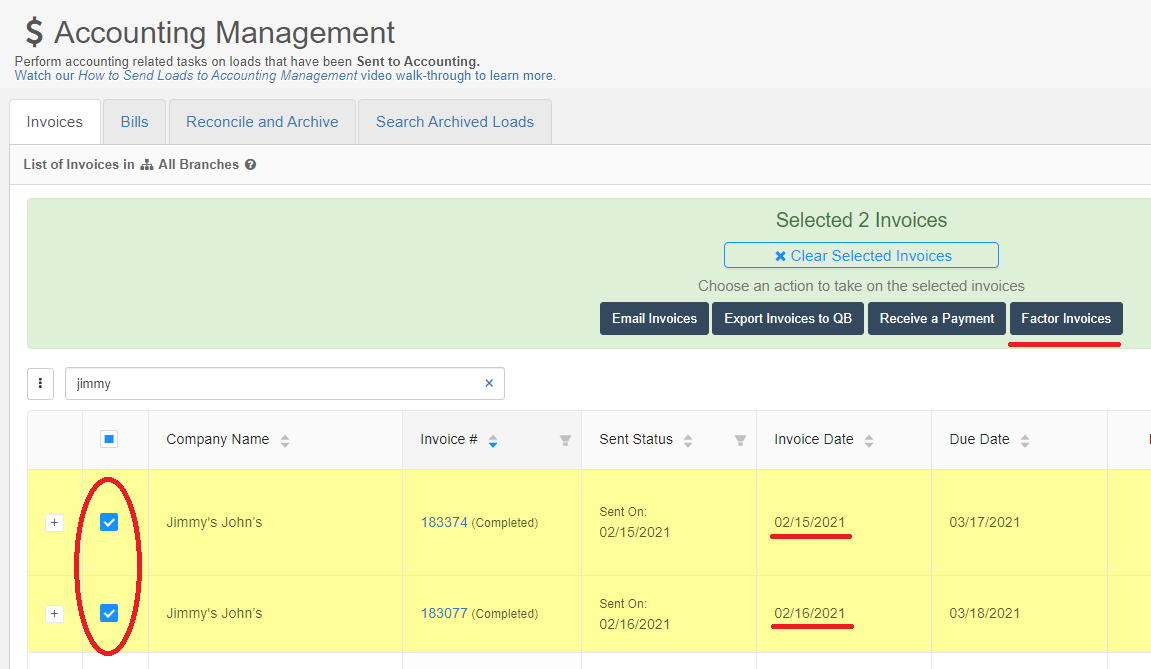 Click on the "Factor Invoices" button. You should now see this pop-up: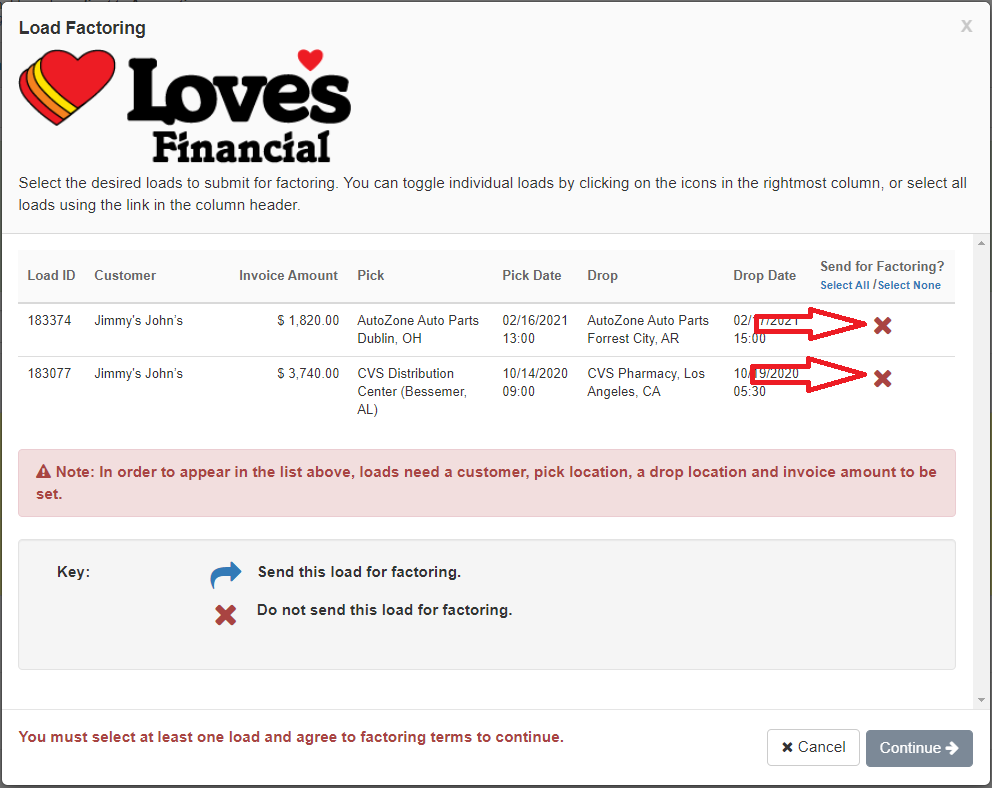 Click on the red "X" to make the invoices ready for factoring.
Select the Continue button and you will see a modal window pop-up confirming your funding amount:



Once completed, click the "Factor Loads" button. You should now see this pop-up: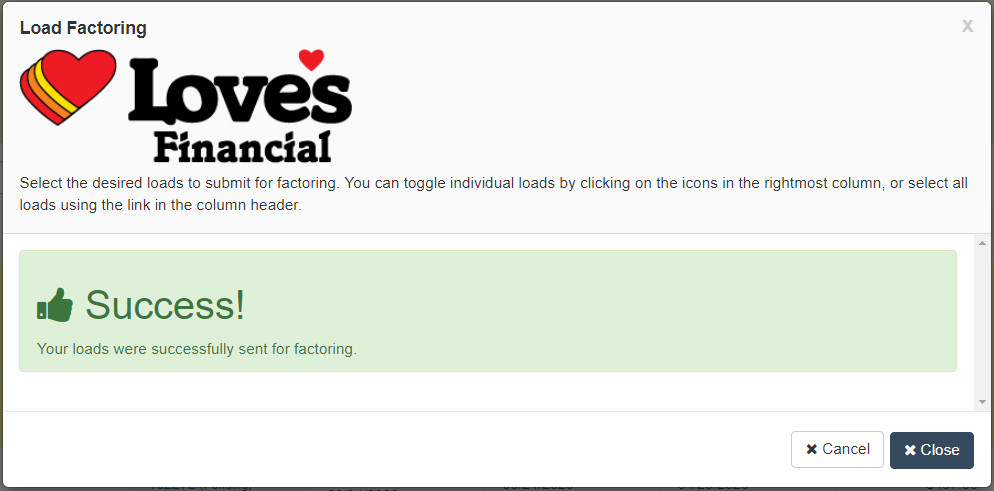 That's it! It really is that simple! Your invoices, freight bills and supporting  documents have now been submitted for funding . For any questions about integrating your AscendTMS account with Love's Financial or factoring your loads, please contact the support team at (813)681-5000 and one of our friendly support staff will be happy to assist. For help with invoicing and billing processes in AscendTMS, please review our invoicing and billing article here.