To add a new customer into your AscendTMS  follow the link below: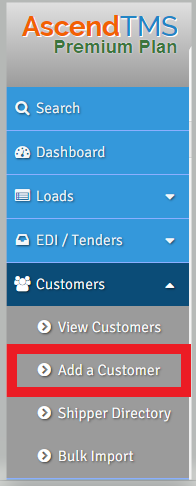 You will then see the main page to add a new customer:
Enter a Customer name or address in the "Search for a Customer" field. This field searches the internet for a match.  Select the best match and the information will populate the fields.  If you are unable to find the correct entry, you will need to fill out the fields manually.  Click "Save" on the bottom right-hand corner of the page and the new customer will be added into the system.
Additional information can be added into the customer profile, including accounting information, additional customer contacts and any other notes.
Accounting
Here you will be able to set the credit limit for this customer, payment terms and place them on credit hold if necessary.
Set Credit Hold
If there are issues with the customer's credit and you want to notify others within your organizations of this fact just in case they were to add them to a load, you can enable the Credit Hold feature.  This will allow other users to see a warning message indicating that they are on a Credit Hold.  Once their credit issues have been worked out, you can disable this feature.  

Customer details
Here you will be able to put in the customers MC/FF/MX number as well as their USDOT Number.
Customer Contact List
This is an optional field in the customer profile.  Here you can store contact information for specific individuals at the customer, or include any factoring company information.  

Clicking the Add another contact button will allow you to enter the name, telephone number, email and fax information.  It is not necessary to enter all of this information to save the contact.  Any contact added in addition to the first contact will as if you want to include the contact in email lists.  You will also have the option to make contacts added later the primary contact by clicking the star in the lower right-hand corner. 

Notes
The last section of the customer profile is the notes.  This is an optional field where you can include any additional information about the customer.  The private notes will only be visible by other AscendTMS users connected to your account. The public notes will be included on all load documents when the customer is added to a load.

When all information has been entered, click Save in the bottom right-hand corner of the screen.