In the settings menu, you have the ability to edit users, branches and user roles.
To add or edit users, select the first option under User and Branch / Department Management in settings.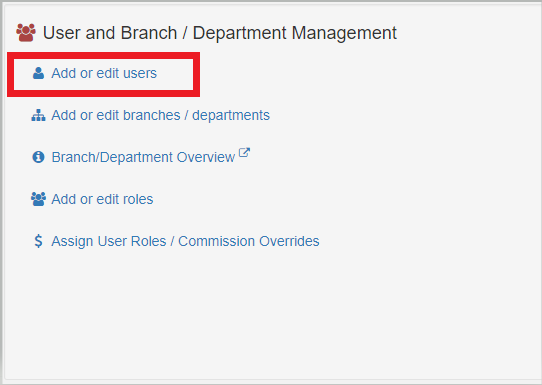 From there, this screen will open.  To add a new user, select the "Add new user" link above the column titled Email Address/Username.

The screen below will open, allowing you to enter all user information, including setting their permission level and which branches/departments you'd like the users to fall under.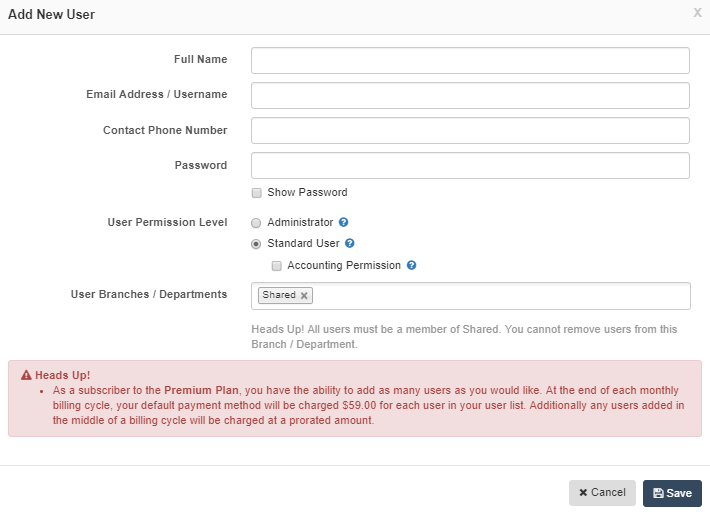 When you're done, click the save button on the lower right-hand side of the screen.
---
Understanding User Permission Levels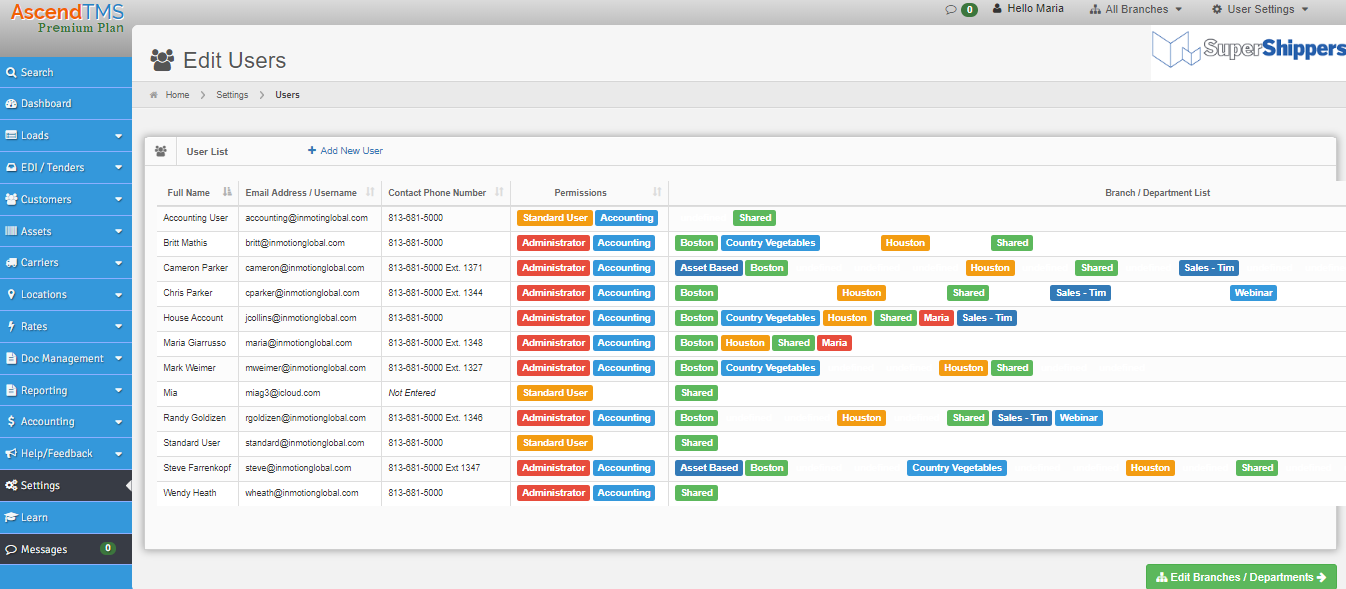 When setting User Permission Levels, please keep the following in mind:
Administrator - user(s) with administrator permissions have access to every feature, including company-wide settings and accounting, specifically the Settings menu and Accounting menu items.
Standard - user(s) with standard permissions have access to every feature except company-wide settings and accounting. In addition, key financial information is redacted from this user's view. Financial Quick Look Dashboard widget, the Financial Summary on the Load Management screen, and certain financial summaries on Load Reports will not be displayed under this permission.
Standard --> Accounting Permissions - granting this permission to a user(s) allows them to record invoices sent, bills received and payments. It also allows the user(s) access to the accounting reports section of AscendTMS, as well as does not hide the key financial information listed under the Standard permissions.
(NOTE - All Administrators are automatically granted accounting permissions)
---
To edit an existing user, on the landing page for Add or Edit Users, simply click on the user you'd like to edit and additional options will appear beside the link titled "Add New User."  These options are Edit User, Remove User and Assign User Roles/Commission Overrides.  

"Edit User" will open a screen with the existing information.  Make the desired changes then hit the save button in the lower right-hand corner.

To remove a user, select the user you want to delete and click "Remove User" at the top of the screen.
Please note: If you are adding a new user that will be replacing a previous user, the previous user must be deleted so that you can add the new user's information.  Do not simply edit the previous user's information. This will cause issues with documents and emails that will be sent out from this account.  If it is a single user account, contact AscendTMS for assistance.
To learn more about assigning user roles and commission overrides, please check out our article here