The view customers option in AscendTMS will allow you to add new customers, as well as make edits and delete existing customer entries.

Clicking on View Customers takes you to the screen shown below:

---
Adding a New Customer
To add a new customer from this screen, click the button "Add New Customer"

From there you will be taken to the screen below
Enter a Customer name or address in the "Search for a Customer" field. This field searches the internet for a match.  Select the best match and the information will populate the fields.  If you are unable to find the correct entry, you will need to fill out the fields manually.  Click "Save" on the bottom right-hand corner of the page and the new customer will be added into the system.
For more information on the features to add a customer, check out our article here.
---
Edit a Customer
To edit a customer, select the customer you want to edit and click the Edit Customer option that appears at the top of the screen.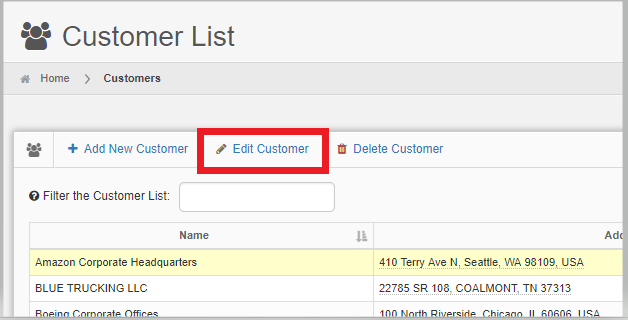 Fill out or edit any field necessary and when you're done, click the "Save" button. You will then be brought back to the "Customer List" page.  The edit page also allows you to view customer documents, add or edit customer commission overrides, and upload documents as shown below
---
Deleting a Customer
To delete a customer simply select them on the main Customer List page and select "delete" at the top of the screen.