QuickBooks Desktop 2019 has made many new rules and restrictions when it comes to Importing IIF files. Unfortunately, this new error checking can create issues while trying to Import normal and valid IIF files - files, mind you, that have always worked and continue to work in the preceding version years of QuickBooks.
As a result, IIF files that used to work - may not anymore.  But there's a way! Keep reading…
---
For our users that are operating and integrating AscendTMS with QuickBooks Desktop 2019, please see import options below:
QuickBooks 2019 now offers two ways to import - the new default method and the older method you may have have been using with older QuickBooks Desktop versions. 
This second method is accessible by using the link below: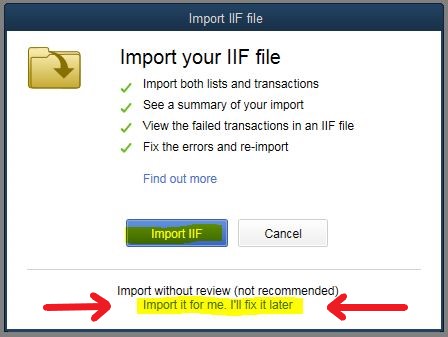 It is very tempting to use the blue Import IIF button. Don't!
The Import IIF button imports using the new and restrictive error checking method. On top of some unnecessary restrictions, there also several bugs and we keep finding more of them.
The Import it for me link uses the method we've all been using with IIF files for many years. IIF files exported from AscendTMS work best with this option.
You may need to use this option in order to get around bugs with the new method and for a growing list of specific cases.
Recommendations: Use the "Import it for me" option!
This option uses the more reliable and more accurate IIF import code. It is the same as older versions of QuickBooks Desktop.

The "I'll fix it later" text suggests you'll have to fix something, but that misleading and is unlikely to be the case.

Avoid the bugs and limitations with the new method.
---
Should you have any questions or require assistance with this, please contact one of our friendly support staff at (813)681-5000 - Option # 2 or you can e-mail us directly at support@inmotionglobal.com