The dashboard contains several areas of information we call widgets. In addition, the dashboard has a nice welcome banner that displays your company's name and logo.
Below are examples of the widgets along with a brief explanation on how they work.
---
Financial Quick Look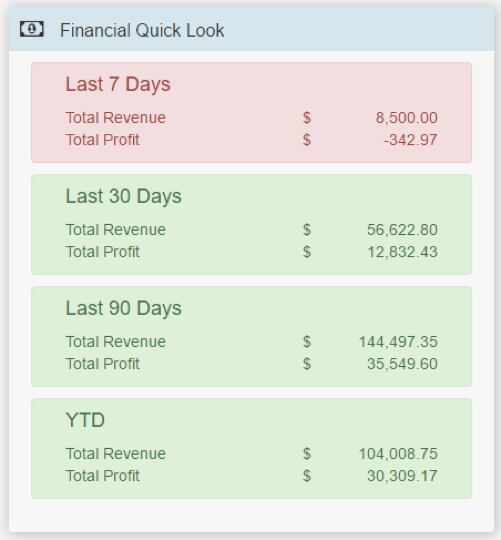 The Financial Quick Look widget will display your real-time cumulative financial status in one week, one month, three month and year-to-date intervals. The widget is calendar date dependent. Loads that have been entered into AscendTMS must either have a past delivery date or a current delivery date set in order to be displayed. Loads that have future delivery dates and loads that have been cancelled are not compiled into the Financial Quick Look results. This widget is hidden from Standard AscendTMS users; meaning that users need to be Administrators or have Accounting permissions to view it.
---
Tracker Quick Stats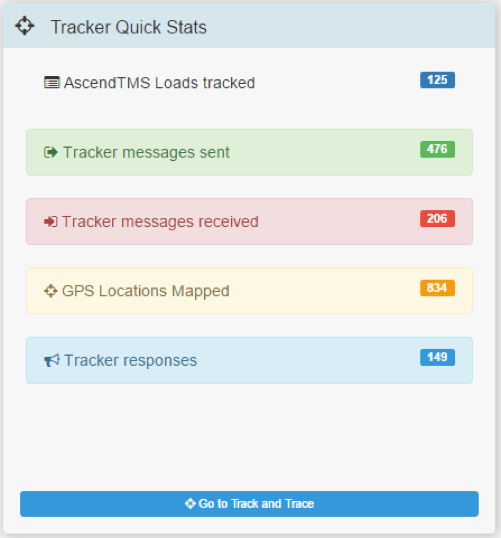 The Tracker Quick Stats widget monitors your driver tracking activity, breaks down the tracking information according to the type of event and displays it in a simple list. The statistics that are included are:
• The total number of loads that contain tracking information
• Text messages or document requests that have been sent to drivers.
• Text messages or document request responses that have been received from drivers.
• GPS location pings. (Sometimes multiple pings occur from a single tracking request.)
• Driver responses to 1 of 4 preset messages included in location tracking events.
The button located at the bottom of the widget will point you to your AscendTracker driver track and trace page.
---
Your Load Counts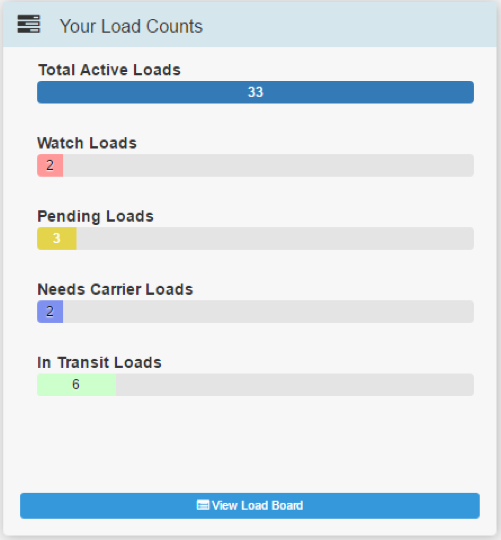 The Your Load Counts widget displays the total number of active loads that you have in real time. This includes loads that have been sent to Accounting but have not been archived. Whenever a load is archived or cancelled, it will no longer appear on the widget. Several important load status subcategories (Watch Loads, Pending Loads, Needs Carrier Loads and In Transit Loads) are tabulated and displayed for you at a glance. A button located at the bottom of the widget will take you to your Active Loads tab within Load Management.
---
Current Fuel Index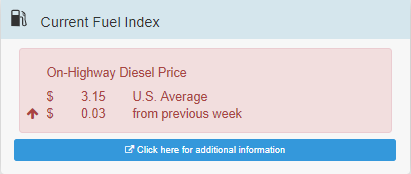 The Current Fuel Index widget conveniently displays the average United States on-highway diesel fuel price (including all taxes) measured in dollars per gallon. The widget data is updated every week using the most recent statistics from the U.S. Energy Information Administration. The change in diesel fuel price from the previous week, measured in dollars per gallon, is also displayed with either an up arrow, indicating an increase in price or a down arrow, indicating a decrease in price from the previous week. A button at the bottom of the widget links to the U.S. Energy Information Administration for additional information about gasoline and diesel fuel trends.
---
Current Rate Index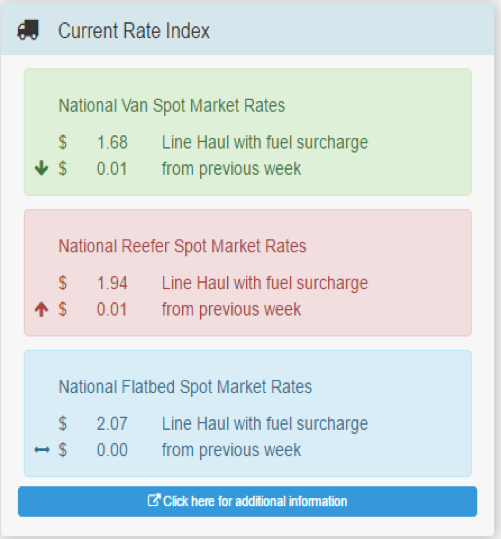 The Current Rate Index widget displays average national spot market rates, including fuel surcharges for van, refrigerated and flatbed trucks. The data is updated by DAT Trendlines™ every week and denotes line haul rates collected during the previous week. Spot market rate trends are provided with an up or down arrow indicating positive or negative trend direction and the proportion of the rate change is shown in dollars and cents. If the rate per mile from the previous week is unchanged, then the trend will display $0.00 and a horizontal arrow. A button is provided at the bottom of the widget linking to DAT Trendlines™. 
---
Triumph Business Capital
The dashboard also includes a  hot link to Triumph Business Capital. 
Once you click on the link you can either sign up to be a Triumph account holder or you can sign into your already existing account.
---
Transits Insights by FourKites
Transit Insights by FourKites allows you access to current border crossing transit times, regional insights for inbound and outbound loads, as well as port congestion.