Another benefit of AscendTMS, is it allows you to customize your currency and units of measure (UOM) for your specific location or country.  We support around 160 different currencies, weights and measures (NOTE: if you are looking to learn about changing the language that AscendTMS uses, please click HERE). 
Most users transact in a single local currency (i.e. USD, Euro, CAD, Peso, etc.) for billing and payments. This makes your reporting, accounts payable, accounts receivable and financial management consistent.
However if, for example, you are charging clients in one currency and paying drivers in different currencies, we recommend that you let that process be conducted by your accounting software. Conducting business in multiple currencies at the same time makes reporting on profitability in AscendTMS more difficult without constant currency conversion into one single currency at any given point in time. For example, when charging a customer $1,000 USD and paying a driver $50,000 MXN pesos, the profitability changes depending on the daily exchange rate.
The solution is simple, let your accounting software do multi-currency receipts and payments for you. For example, Quickbooks allows you to set up customers and vendors with their preferred currency for AR and AP purposes. It will even do the currency conversions for you in real-time, and can even handle the currency exchange when making payments or depositing receipts, etc. Moreover, it greatly simplifies your end of year tax filings for you and your accountant!
To change the currency or UOM in AscendTMS, you'll click the "Customize the default currency and units of measure for your location" link, found in the settings menu.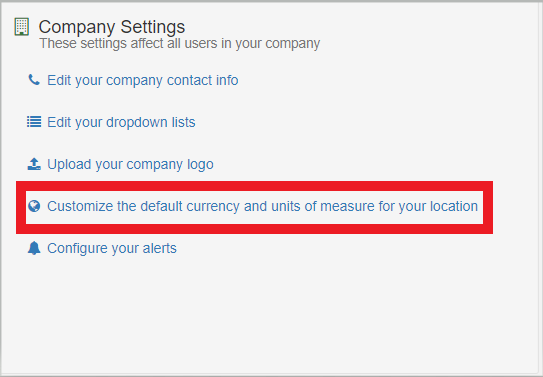 This screen will appear.  Make your selections and hit the save button. It's as simple as that!