In this section, account administrators will be able to add or edit external load board settings, enabling users to either post available freight or perform custom load searches.
Begin by clicking the Settings menu found on the lower-left side of your screen.

Locate the Premium Features and Billing Details area and click on the Add or Edit External Load Board Settings link.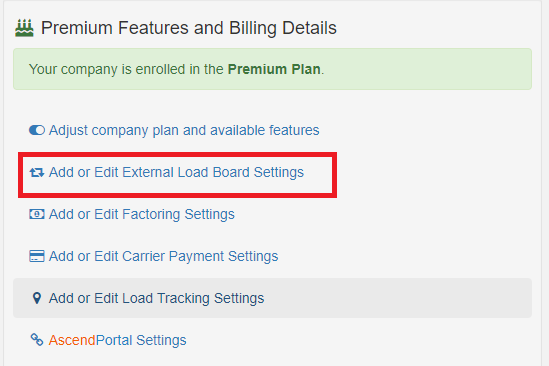 These are the load board settings that will be shared by everyone in your organization. Enter your organization's credentials for every load board service you want to integrate with AscendTMS. Keep in mind that some load board integrations can be used for load searching, some are available for load posting and some can be used for both load searching and load posting.
If your load board subscriptions offer unique, user-specific login credentials in addition to the main organizational credentials, individual users in AscendTMS may wish to post or search freight using their personal logins. Each user with personal login credentials for load boards should enter them in the User Settings located in the top-right corner of your AscendTMS.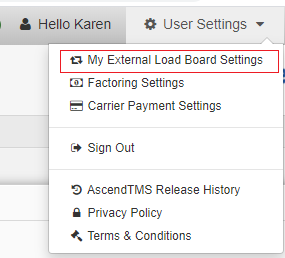 These user-specific external load board settings should only be changed after the organization load board credentials have been entered in the Premium Features and Billing Details by an AscendTMS account administrator.

---

Limited Convoy load offers and load searching will be available for fleets and carriers by default in AscendTMS for users that do not have a Convoy account. Users that wish to unlock access to all available Convoy loads, can quickly and easily subscribe to Convoy for free. All you will need is a carrier MC/DOT number and a phone number to get started.

---
---

You are instantly connected in real time to the very best of Uber Freight's live available loads for free within AscendTMS. To be able to Book or Bid on Uber Freight loads instantly, you can sign up by simply clicking on the email shown below. Already hauling loads for Uber? Perfect! Just connect to the Uber Freight Web Portal today and start booking!

---

To search for C.H. Robinson loads, you will need to enter your DOT number in the first box.  You may also use your T-Number in addition to your DOT number.  When adding the T number, it is important not to include any spaces or dashes.  

To save, click the red save button on the right-hand side of the screen and the information will be stored in AscendTMS.

---
Truckstop.com and DAT load boards require an additional step for full integration.  

For Truckstop.com, an Integration ID is required.  The Integration ID is a unique ID generated by Truckstop.com.  To obtain your Integration ID, contact Truckstop.com support at tsi@truckstop.com and request that they send you an Integration ID for integrating with AscendTMS.  Once you have received this Integration ID, enter this in the first box.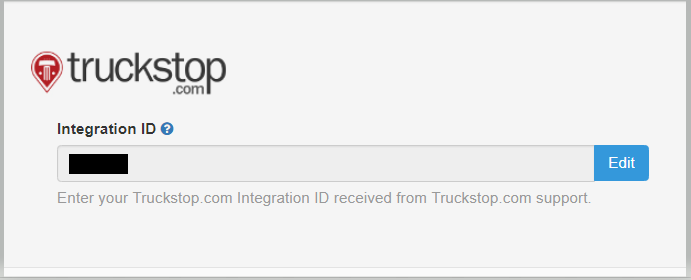 This is all the information required to connect to Truckstop.com.  Optionally, you can include a "handle" that will be visible on Truckstop.com.  If you chose to leave this blank, the entry will default to "Dispatch."
---
DAT TruckersEdge, DAT Express and DAT Power subscribers need the DAT Connexion flag turned on at DAT in order to automatically post and search DAT loads from within AscendTMS.  To set this up, contact DAT at 1-800-547-5417.  Once this step has been taken, enter your regular DAT Login in (username and password).

---
We offer direct integration with Trucker Path Truckloads for load posting only.  If you do not already have an account, sign up for your free account here.  Once you have an account, enter your credentials in the screens shown below.  For more info, contact support@truckerpath.com or call 877-890-0377. 

---

All premium subscribers to AscendTMS receive a complimentary premium account with 123Loadboad.  To active, contact 123Loadboard at 1-877-875-5301 ext 3, and let them know you're an Ascend premium subscriber.  Once activated, simply enter your 123Loadboard.com username or email address and password in the boxes shown below.

---

Sign up for your free NextLoad account here.  For more information,  contact NextLoad@apexcapitalcorp.com or call 1-844-827-7700.  No need to put in any login information, simply link your account in settings.
---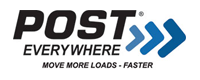 AscendTMS users are eligible for a special rate of $29.95/mo (57% off the regular PEP service price). Contact PostEverywhere for details at 1-844-878-9700.  Once you set up your account with PostEverywhere, contact their customer support and request they send you a customer key for integrating.  The customer key will go in the box shown below:

---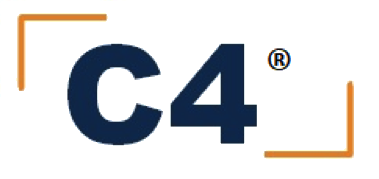 We offer direct integration with Cargo Chief's C4® platform. C4 is a Digital Freight Matching network that exposes your loads to carriers with 100,000's of trucks, for FREE! If you are a 3PL or Broker, get signed up for your free C4 account here.  
(Please note - as a Carrier, you do not need an account with C4, you can search C4's Load Board automatically) 
Once you have a Cargo Chief account, click the button provided in AscendTMS Public Load Board Settings to log in to Cargo Chief and authenticate the connection.

Once the accounts are linked, AscendTMS will let you know the connection is live by displaying "You're Connected!" as shown below. By connecting to C4, AscendTMS users can both post available freight to the C4 network and perform custom searches for available loads on the network as well.
In addition to the free load posting and load searching ability, users also get instant access to C4's powerful Booking Assistant and load bidding tools. To learn more about Booking Assistant, click here.

---
We offer direct integration with Trucker Tools' Smart Capacity® platform. Smart Capacity provides predictive freight-matching and capacity management tools to ensure carriers are getting the best loads at the right time. Plan not just for today, but days in the future, quickly and efficiently securing the right load or the optimal truck at the right time. For more information, click HERE.
Once you have an account, enter your Account ID and Username, then click the "Turn on Smart Capacity Integration" button below to connect your account to Smart Capacity®. 
Please Note: By using Smart Capacity, you agree to make your loads or your truckload capacity available to your Smart Capacity network. This includes the carrier information once assigned to your posted loads.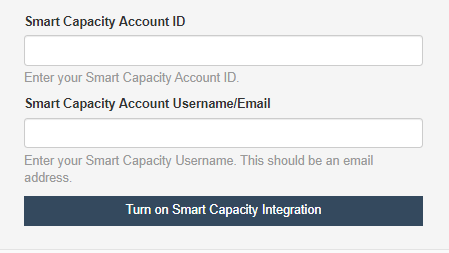 Once you have entered your Account ID and Username/Email, select "Turn on Smart Capacity Integration". When successfully connected, AscendTMS will display "Your Connected!"