AscendTMS  now offers direct integration with Trucker Tools' Smart Capacity® platform. The powerful combination of Trucker Tools and AscendTMS provides carriers, brokers, 3PLs, and shippers with the most seamless way to both manage their entire logistics operations and to keep trucks full and loads moving. Trucker Tools stays on top of the latest and best technology that drives value and profits for its customers, and AscendTMS  will transform your entire trucking or logistics business - at no additional cost to you!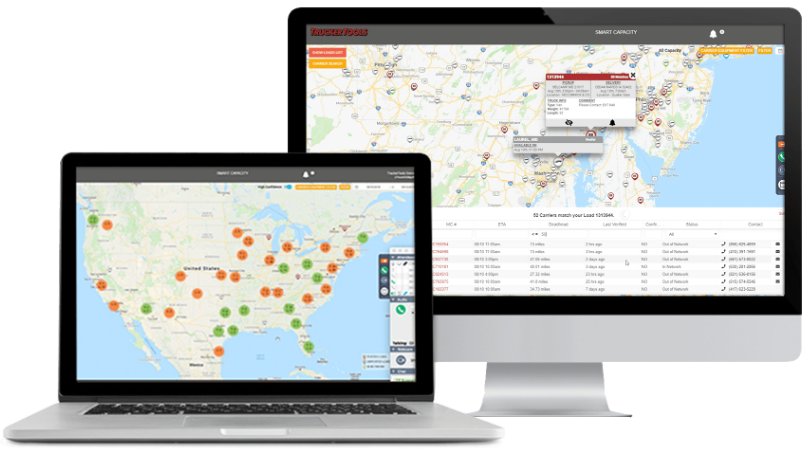 Smart Capacity®  provides a next-generation solution for brokers and carriers that solves the problem of inaccurate, stale truckload capacity information while compressing the booking process and eliminating hours of manual phone calls and emails. Utilizing powerful algorithms, intuitive workflows and aggregated data from multiple sources, the platform presents a continually updated view of the latest available trucks and loads in your network, their location, and status. A customized, global map view of available trucks and available loads is refreshed in real-time. Predictive freight-matching and capacity management tools ensure carriers are getting the best loads at the right time. Plan not just for today, but days in the future, quickly and efficiently securing the right load or the optimal truck at the right time. For more information about Trucker Tools' Smart Capacity® - and to see it in ACTION - just click HERE.
The setup process in AscendTMS  is so easy it takes about 15 seconds. Once you have a Smart Capacity account, just enter your Account ID and Username into your AscendTMS Public Load Board Settings HERE, then click the "Turn on Smart Capacity Integration" button to connect your AscendTMS  account to Trucker Tools' Smart Capacity® system. It will blow you away. 
When you're successfully connected to Trucker Tools' Smart Capacity® within AscendTMS, you can start postings and covering loads with trucks that are mere feet away from your load(s) and enjoy the automatic bread-crumb tracking and document (POD) capture that comes with their amazing solution.
---
For details on posting and covering loads with Trucker Tools' Smart Capacity®, please see our knowledge base article HERE.