AscendTMS now offers direct integration with Trucker Tools' Smart Capacity® platform. Plan not just for today, but days in the future, quickly and efficiently securing the right load or the optimal truck at the right time. For more information on integrating AscendTMS with Smart Capacity® please click here.
Once you have successfully connected to Trucker Tools' Smart Capacity® within AscendTMS, which takes about 15 seconds, you can start posting and covering loads automatically (which includes bread-crumb tracking and document capture for you, too). You can ALSO use Trucker Tools for just tracking trucks and drivers that you've cover yourself from other sources or load boards. It's the COOLEST thing you've ever seen - and will boost your profits and lower your costs the same day you start using it. 
---
Using Smart Capacity Is Fast and Easy
First, if you need to cover a load, just build a load in AscendTMS completely. Once done, select "Post Load" from either the Load Actions menu here: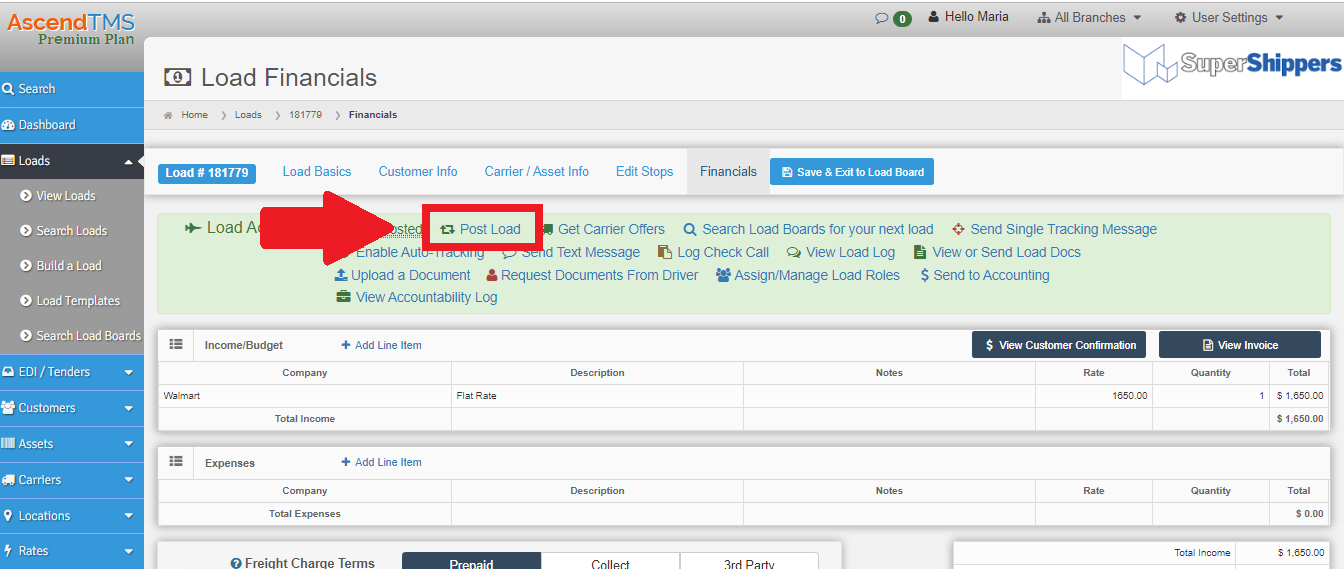 OR if you choose the "Post Load" option from the Shortcuts menu here:

You will then see the Load Posting Modal here: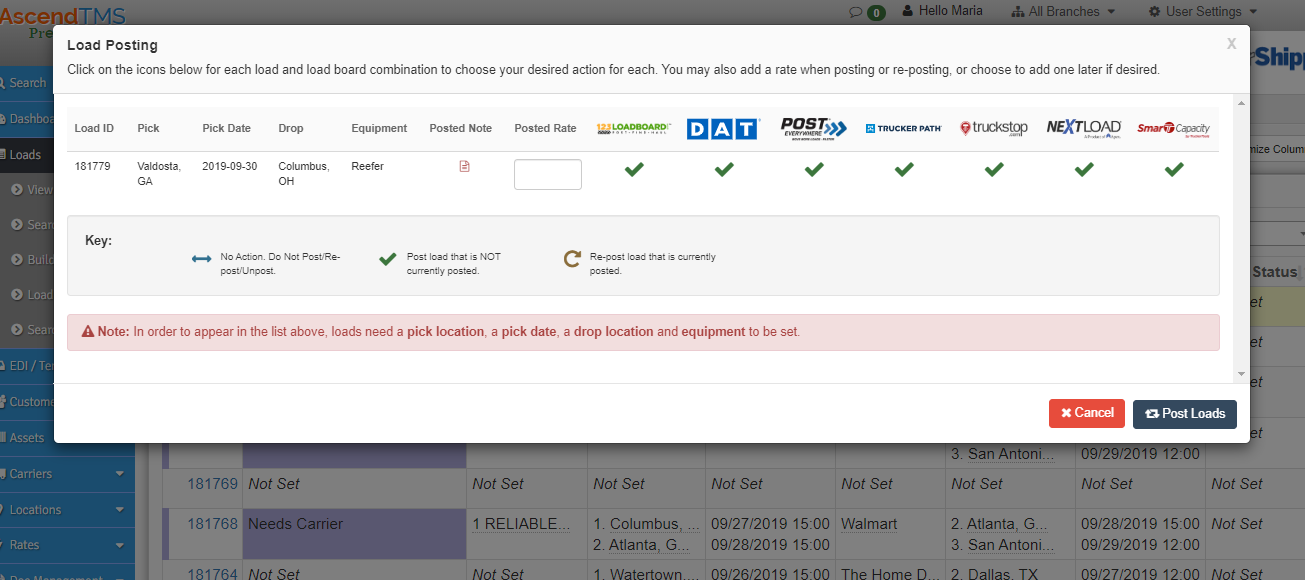 Next, select "Post Loads" option in the bottom right-hand corner of the above modal. When you have successfully posted to Smart Capacity®, you will see that column checked off with a green check-mark shown below:

---
Now that you have successfully posted to Smart Capacity®, you can view that Smart Capacity Load Listing by navigating to the "Carrier/Asset" page within the load here: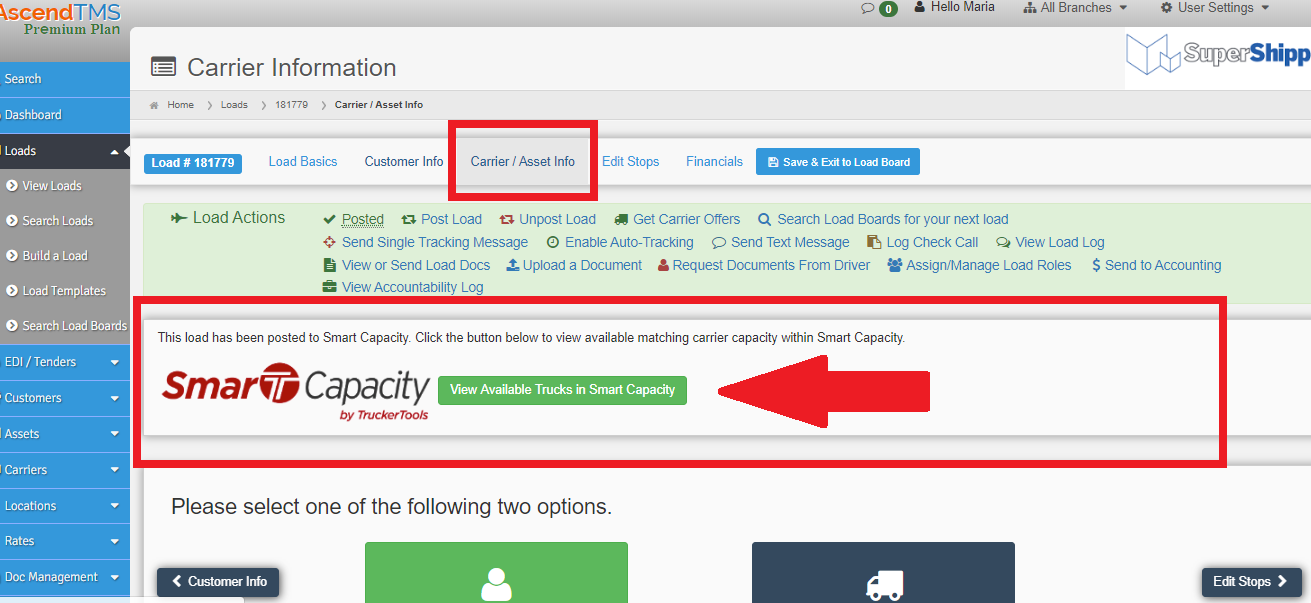 By selecting "View Available Trucks in Smart Capacity" you will be taken into a new browser window to your Smart Capacity® load posting: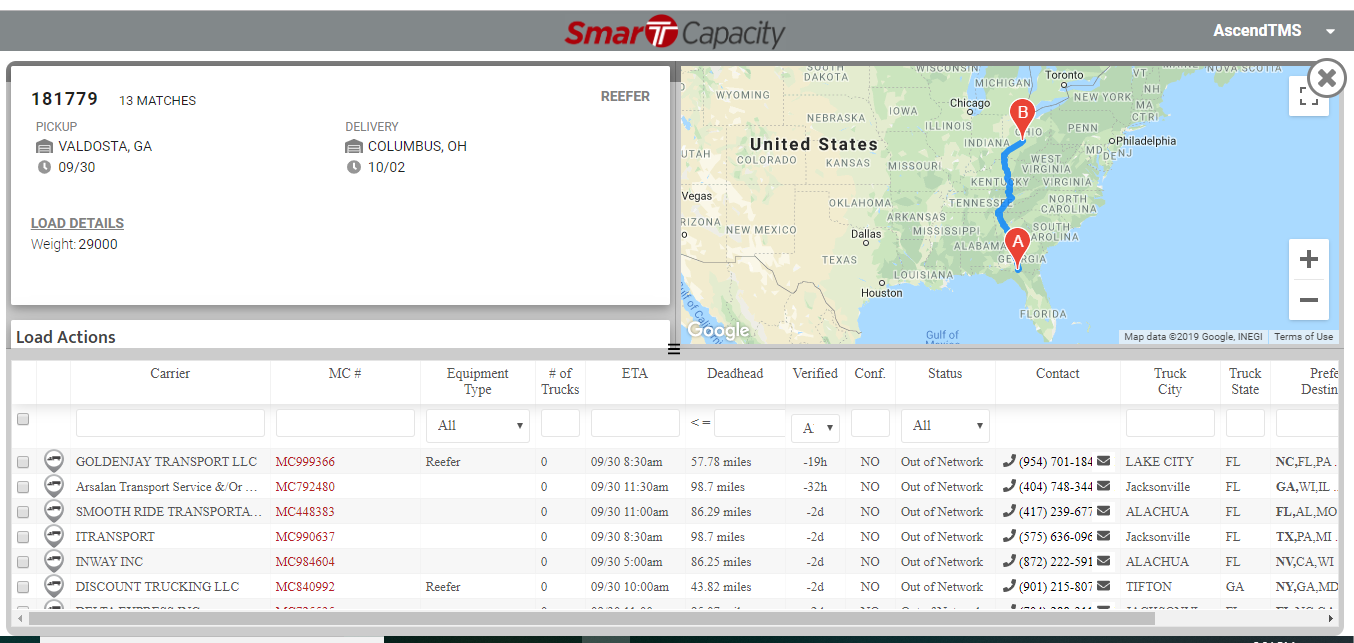 You can now manage the carriers matching your load in Smart Capacity® and when you update the load in your AscendTMS, the fields below will automatically update in your Smart Capacity® platform:
•    Stop (Pickup or Delivery) Date/Time or Location
•    Driver phone number
•    Power Unit (tractor) ID
•    Trailer ID
•    Carrier Information (will be sent once the load is "covered" and the carrier is assigned to the load, or a new carrier is assigned to the load replacing a previous carrier)
When you cover your loads with Smart Capacity, it will do all the tracking for you and send the breadcrumb tracking updates into your AscendTMS account in real time - and at the end of the load, when the driver is finished, just tell them to use the Smart Capacity app to take a picture of the POD and it appears in your document management system inside your AscendTMS account. 
AscendTMS and Smart Capacity give you 100% digital freight management the moment you start using them together. Now THAT'S pretty amazing!