AscendTMS is the only TMS in the world that aggregates load search results from leading 3PL'S and load boards on a single screen for the tens of thousands of fleet carriers and owner-operators using AscendTMS. 
Load sources available to carriers include C.H. Robinson, Truckstop.com, DAT, 123Loadboard, Convoy and Uber Freight all on one single screen right inside AscendTMS.  You see the exact same loads in AscendTMS as you will on their website/load board but without the need to go to dozens of websites or entering the same search data again and again. No other TMS in the world can do this.  
As AscendTMS already knows where and when your trucks will be empty, along with the drivers HOS available, and their current equipment, we can send this information to all of these load sources and give you all of the available load results  for your "soon to be empty" trucks along with the load source and load owner (such as C.H. Robinson, Truckstop, DAT, or other leading 3PL's and brokers).  Most load searches will generate thousands of real, live, available loads from dozens of load sources and load owners. 
To set up your load boards, first go to Settings and enter your credentials or login information for these load boards. You will need you to enter your login credentials in AscendTMS as a one time process so you can access those load sources (so they know who you are when they present you with load opportunities).  For more information on how to set up your login details for each account, check out our article here.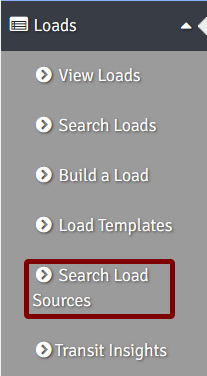 Once setup is complete, you can begin to search all these live load sources and load boards inside AscendTMS in real-time.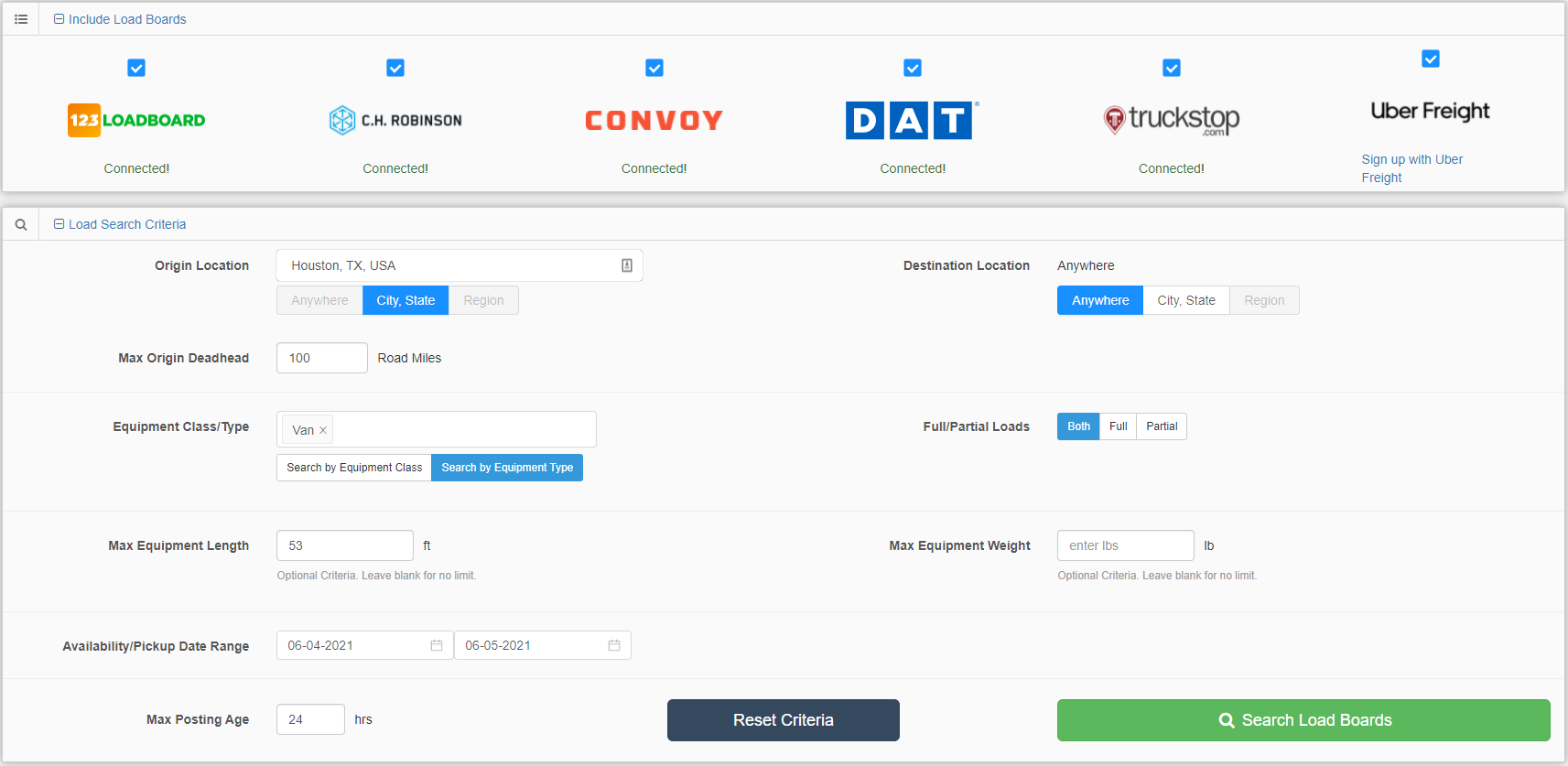 AscendTMS will prefill most of the search data for you as the system already knows your truck's origin location, the equipment type and the availability date, etc. However, you can change ANY of the data before you start the search, such as:

Origin Location and Destination Location
Max Origin Deadhead
Equipment Type
Availability/Pickup Date Range
Max Posting Age
The origin location will require a city and state.  However, for destination locations, you can select a certain city and state, or leave the "anywhere" option selected. If you are happy with the criteria, just click "Search Load Boards" and we go to all these load sources and pull in the available load results into one single screen for you. No other TMS software in the world does this for carriers - only AscendTMS. 
As you can see, the LIVE load results will then populate at the bottom of the screen from all of these load sources and load boards. You get all the details you need to decide which load you want your driver to haul - including the load source, the contact information, and very often you will see the rate to the carrier. Again, these are live and real-time loads just as if you were searching each source separately. 
You also have the option to remove any of the load sources or load boards from the search. To do this, simply uncheck the box above the name of the load board or source that you wish to remove from the search.  After that, just click "Search" again and you will only see results from the load boards you've selected.
We can add any other load source or load board for you. Just make your request using the "Suggest a Feature" link found under "Help/Feedback" on the main menu bar on the left-hand side of the TMS. If enough carriers want specific load sources or load boards included in the load search results, we will contact the load source and see if they are interested in exposing their loads to the tens of thousands of fleet carriers and owner-operators using AscendTMS.
We add more load sources and load boards for carriers each month. You'll simply see them the next time you log in to your AscendTMS account and ask AscendTMS to match up your "to be empty" trucks in AscendTMS with the available loads from these industry sources.